09146 - 3m x 3m Gala Shade Pro Gazebo (Yellow Sidewalls)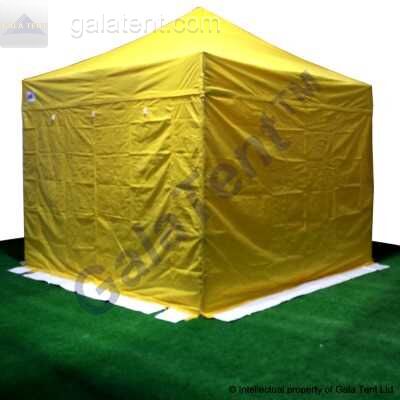 Reviews for 3m x 3m Gala Shade Pro Gazebo (Yellow Sidewalls)
Alan Hitchcock

2019-5-15
Having researched the whole Gazebo market for a few months, we selected Gala after talking to Market Traders and Stall Holders, who highly recommend them.We erected our Gazebo in my Garden yesterday, and we managed to do this with no major problems. It was heavier than we expected, but it is a Quality Product.
Thomas Wareham

2019-3-8
First time buying a gazebo, set up new business. I looked at many gazebos, Amazon, eBay, various company's and gala, quality, standard, and durability stood out. Pictures of models were very good, leaving no area unseen. I did end up going for the pro 50 3x3. The sales manager I dealt with had so much patience, and helped me through the entire process. Finance there were a few selection errors made by myself but again the manager sorted it with no hassle, great positive attitude. If I have any problems I feel confident that they would sort them out quickly over the phone.Thanks Tom
Adrian Ferne

2018-10-3
Great service and great product as usual!
Lisa Hartwright

2017-7-4
The gazebo is very high quality, a sturdy build and is really easy to assemble. We went for yellow, which is a great colour; we really stand out at events and fairs. I wouldn't hesitate to recommend this product to any trader selling at markets and festivals, or to someone looking for something for parties in the garden. It's an excellent product.
Linda Ward

2017-5-2
Love our new gazebo, brilliant customer service as well.
ian robertson

2017-4-20
Everything is a ok with the two 3x3 gazebos recently purchased and in the future if we experience any leaks on the seams (we are in Cornwall, it's bound to tip down big time sometime soon) I'll get back to you for the sealant. I would like thank Julie Moreman for her patience, perseverance and professionalism throughout the duration of this sale, she is a credit to your company. Please pass on my regards to Julie (aka- Beyonce from aka-George Clooney) Thank you, Ian Robertson for Callington Lions
chaRLIE BOND

2017-3-6
Well pleased with purchace only one thing i am still waiting for the invoice to be sent.
Response from Gala Tent UK
"Thank you for your review Mr Bond and bringing this to our attention this is normally received by automated email, I have raised this with our I.T department and also sent out a paper copy in the post to you."
---
Ian Gerrard

2016-9-9
Excellent product and service
Cath Jones
Worcester
2016-6-2
I opted to buy from gala because I needed a heavy duty gazebo for my fundraising having lost three lightweight gazebos in winds and rain over the last three years. The other company recommended to me had none in stock and a diabolical telephone manner. The staff at Gala were very different, they were extremely helpful not only on the phone but also when I emailed questions. It was very easy to choose what I wanted and payment was also easy. The gentleman talked me through making the payment as it wasn't a system I was familiar with. The items I'd purchased were despatched that day and delivered the following day. Everything has been of a high quality and the gazebo has withstood rain and wind with no problems whatsoever
John Craig
Hawick
2016-3-28
Have just used the new gazebos this weekend, they are so easy to put up and took all that our Scottish weather could throw at them. Tables and chairs are very good value and all of the items look like they will last a long time. Even the packaging was of a high standard.
Caroline Hornberger
DROITWICH
2015-8-5
We bought the shade and sides as we needed something sturdy but easy to put up and down as the events we attend are just a one day or a few hours. This has lasted us three years so far, and apart from a little discolouring on the sides, it has stood up very well indeed- through torrential rain and winds the English summer throws at us. It has stayed upright and kept us dry and the sun off as well. A few people have asked where it comes from and we have pointed them in your direction. We would buy again when this one finally gives up- which we hope will not be for some time yet. Easy to put up and take down, sturdy and hard wearing.
Mr Andy Brown
Southampton
2015-3-17
Our Gazebo was delivered Friday,I was impressed with the careful packaging and my wife who is a machinist was impressed by the sewing and manufacture of the carry bags.It looks a quality piece of kit that we will get many years of use out of. Its certainly lighter than our previous gazebo
Mr Backshall
DRIFFIELD
2014-12-22
Hi Joel,Gazebo arrived today.Absolutely delighted with the product.Well worth the time taken to get the printing right.Waiting for wind to drop so I can fully assemble it.All the best for Christmas.Geoff